와일레아 비치 리조트 메리어트 Wailea Beach Resort, Marriott, Maui  
푸른 태평양과 우거진 열대 정원을 가진 와일레아 비치 리조트 메리어트는 자연의 웅장한 경관을 만끽할 수 없는 와일레아 해변가에 자리하고 있습니다.  1억달러를 들여서 2016년도에 레노베이션을 완공한 이 와일레아 메리어트 호텔은 하와이의 전통적인 편안하고 안락한 분위기를 살리면서도 리조트 내의 모든 시설들을 변형해서 최고로 세련되고 모던한 분위기로 탈바꿈해서 새로 태어난 종합 리조트입니다. 와일레아 리조트 지역에 세계 탑클래스의 타 리조트들과 어깨를 나란히 하는  최고급 리조트로 이곳에서의 웨딩은 아름다운 바다를 배경으로 한 오션론과 테라스에서 웨딩이 펼쳐집니다.
Wailea Beach Resort – Marriott, Maui Weddings
With stunning outdoor venues, Wailea Beach Resort weddings are unforgettable celebrations. The outdoor event spaces of our Maui wedding venues create a stunning backdrop for your event.  Enhance your destination wedding in Maui with custom, creative menus offered by our catering staff.  The Pacific Terrace rooftop location boasts panoramic views, perfect for Maui weddings & receptions
와일레아 비치 리조트 메리어트의 웨딩베뉴들
---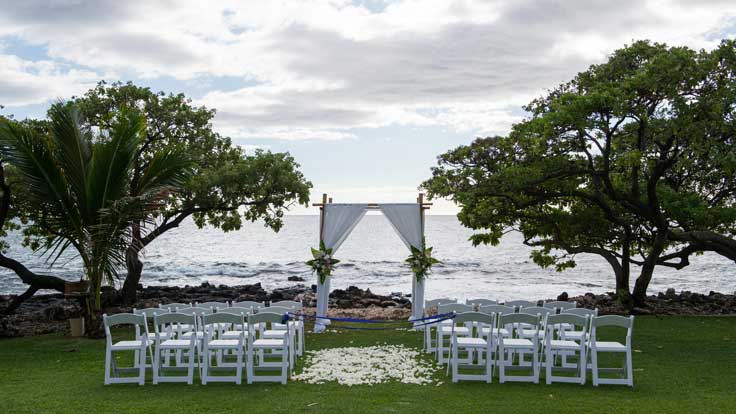 Kahoolawe Lawn
Kahoolawe Lawn is a highly desired oceanfront wedding venue.  Showcasing the astonishing natural backdrop of Maui's stunning sunsets and the Pacific Ocean, Kahoolawe Lawn is steps from the ocean's edge.  In the distance, the island of Kahoolawe and Molokini Crater ascend from the sea, making this combination the epitome of luxury wedding venues.
---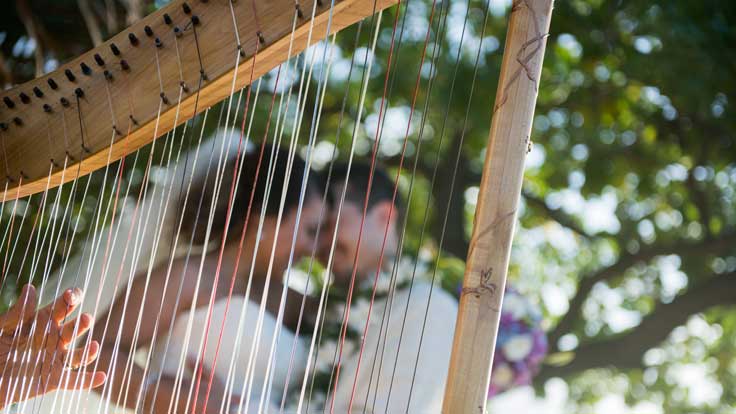 Mei Court
Celebrate your special day under the ancient majestic branches of the resort's historic banyan trees.
---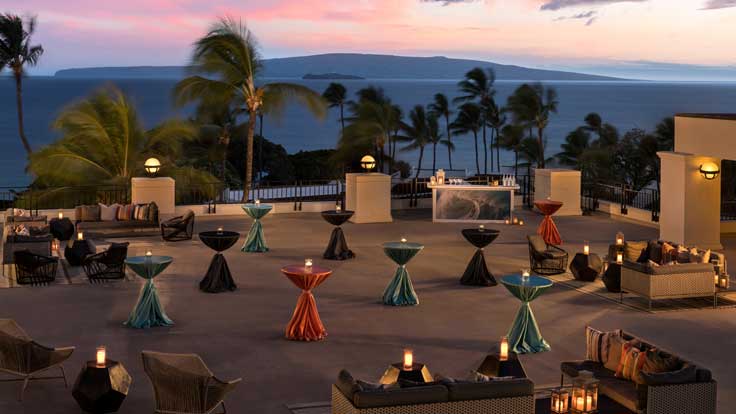 Pacific Terrace
Our rooftop event terrace offers a stunning venue for ceremonies and receptions.  The blank canvas can be transformed to the wedding of your dreams.
---
Intimately Tailored Offerings
The possibilities are infinite, as we showcase an array of modest options of garden, ocean or mountain-view venues that can be tailored for your intimate wedding or vow renewal.
---
Aulani Ballroom and Indoor Event Spaces
Newly renovated interior event spaces feature modern interiors. Luxurious design elements offer sophisticated finishes and furnishings. Our collection of indoor spaces is exceptionally versatile and provides the perfect setting, whether hosting an intimate gathering or large event for all of your family and friends.
와일레아 비치 리조트 와일레아, 마우이 - 웨딩 패키지 & 서비스
*비용은 2017년도 기준이며 세금이나 봉사료는 불포함된 상품가입니다.
CEREMONY ONLY
Held at the Garden Courtyard for an elegant open aired garden surrounded by lush tropical foliage.

Ceremony set up includes:

Ocean view lawn wedding
50 White outdoor chairs
Water station
Portable CD sound system (or iPod® Docking Station) and technician
Use of the Wailea Beach Marriott grounds for photography
Inclement weather option for the ceremony
A Mandara Spa discount for guests of the wedding

$3000
오션론 대관료, 하객의자(50개까지), 생수스테이션, 포터블 CD사운드 시스템, 리조트내 포토 촬영 퍼미션을 포함해서 $3000
*웨딩아치, 플라워장식, 부케 & 부토니아,  주례, 음악, 포토그래퍼 등이 불포함된 로케이션 온리 비용입니다. *리셉션과 병행해서 예약하지 않는 경우 오후 2시전에 세리모니 예약을 해야하며 그 이후의 시간이용시 사이트 피 $500이추가될 수 있습니다.
라벨라의 마우이섬 출장 *웨딩 서비스
위에서 명시된 웨딩패키지들은 *웨딩장소 대관과 기본적인 서비스들만을 포함해서 구성해 놓은 상품들이며 웨딩 패키지에 포함되어 있지 않는 경우 별도로 *웨딩음악/  *웨딩아치장식/ *웨딩플라워 / *하객의자 / *하객의자 장식 / *부케 & 부토니아 등을 추가비용으로 신청해야 하는 경우도 있습니다.  그밖에 웨딩포토그래퍼, 한국인 웨딩플레너, 웨딩현장 신부 & 하객 코디네이터, 웨딩드레스/턱시도, 웨딩엑세서리, 신부 헤어메이크업, 리셉션파티 등의 서비스도 예약이 가능합니다.
라벨라에서는 하와이 웨딩과 리셉션이 필요한 토탈서비스를 제공해 드리는 곳으로 가장 합리적인 비용으로 최고의 만족된 결혼식을 완성하는 전문 서비스로 모십니다.
웨딩패키지 예약시,  
한국인 현장 신부/하객 코디네이팅+ *웨딩진행 + *포토그래퍼서비스 2시간 커버리지의  웨딩 플레닝 서비스 A는 $2,000 에 예약 가능합니다.
출장비 3인 주내선 항공비와 렌터카 비용 토탈 $800 추가됨 
포토그래퍼 제외시  웨딩 플레닝 서비스 A $1000 + 2인 출장비  $600
토탈 웨딩 플레닝이 필요한 경우 일반적으로 예약비용의 10% 적용
단, 할러데이, 연휴기간, 연말 크리스마스 & 새해 기간 (12/22~ 1/ 2) 등은 비용이 인상됩니다.