광대한 바다를 배경으로 로맨틱한 결혼식 연출이 가능한 다양한 웨딩 베뉴들, 쉐라톤 마우이 호텔
꿈같은 하와이 여행을 위해 최적의 장소에 위치한 쉐라톤 마우이 리조트는 하와이 섬들 중 가장 로맨틱한 휴양지인 카아나팔리 리조트 지역, 오션 프런트 해변가와 전설의 검은 바위(Black Rock)에 위치해 있습니다.  검은 바위의 장관 위에 펼쳐진 리조트는 화사한 부겐베리아 플라워와 코발트색의 바다가 만나 한 폭의 멋진 그림을 연상시킵니다.  화사하고 로맨틱한 분위기가 단박에 묻어나는 곳으로 완벽한 휴식의 장소를 제공하는 이 쉐라톤 마우이 호텔에서 바다와 함께 하는 시사이드 웨딩을 완성합니다.  카아나팔리 리조트 지역 해안가 끝자락에 위치한 쉐라톤 마우이 호텔에서는 다양한 웨딩 베뉴를 제공합니다. 웨딩 베뉴별로 소규모 웨딩에서 대형 이벤트까지 이용 가능하며 프라이빗하고 아름다운 결혼식을 연출할 수 있습니다.
Sheraton Maui Wedding's
Located on pristine Ka'anapali Beach at iconic Pu'u Keka'a, Sheraton Maui Resort & Spa offers a selection of ideal spaces to host your destination Maui wedding. Each of the wedding venues speaks to you in a different way, from dramatic to intimate, oceanfront to tropical serenity. With 23 lush acres gracing Ka'anapali Beach, the possibilities are as infinite as your imagination.
쉐라톤 마우이 호텔의 웨딩베뉴들
---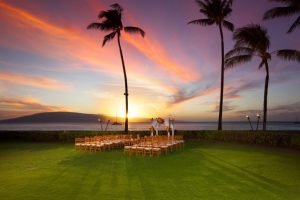 Ocean Lawn
The pristine expanse of the Ocean Lawn provides a large idyllic setting for your family and friends to gather and celebrate your special day. Only steps away from Ka`anapali Beach, the Ocean Lawn features breathtaking views of historic Black Rock and the neighboring islands of Lana`i and Moloka`i.
This 12,000 square foot lawn is perfect for a welcome event, rehearsal dinner, wedding ceremony, or wedding reception. Many couples choose to hold the ceremony, cocktail hour and reception all in this one gorgeous location.
A minimum of 80 guests is required and a maximum of 500 guests can be accommodated.
---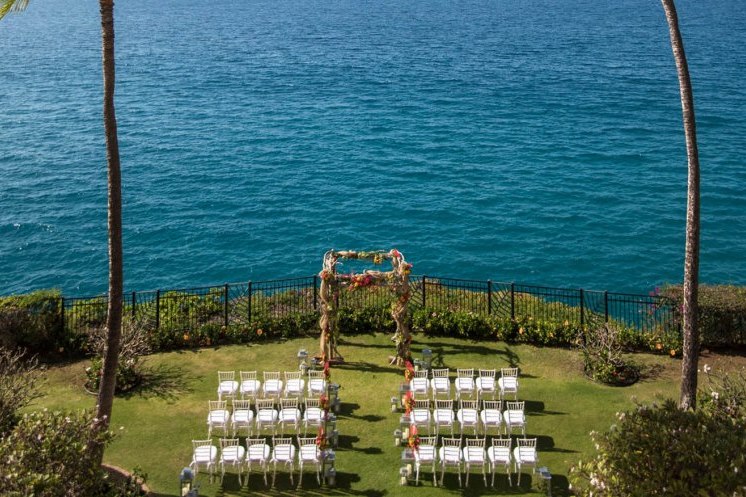 Moana Lawn & Lounge
Situated on the back of Black Rock, near our Hale Moana building, the Moana Lawn features a private garden setting with a beautiful green rolling lawn and inspiring views of the island of Moloka`i.
The setup for this area begins in the Moana Lounge, which opens up to the expansive Moana Lawn. Make your grand entrance through the lounge and meet the one you love at the edge of the Pacific Ocean.
The Moana Lawn and Lounge can accommodate up to 80 guests for ceremonies and 26 guests for receptions.
---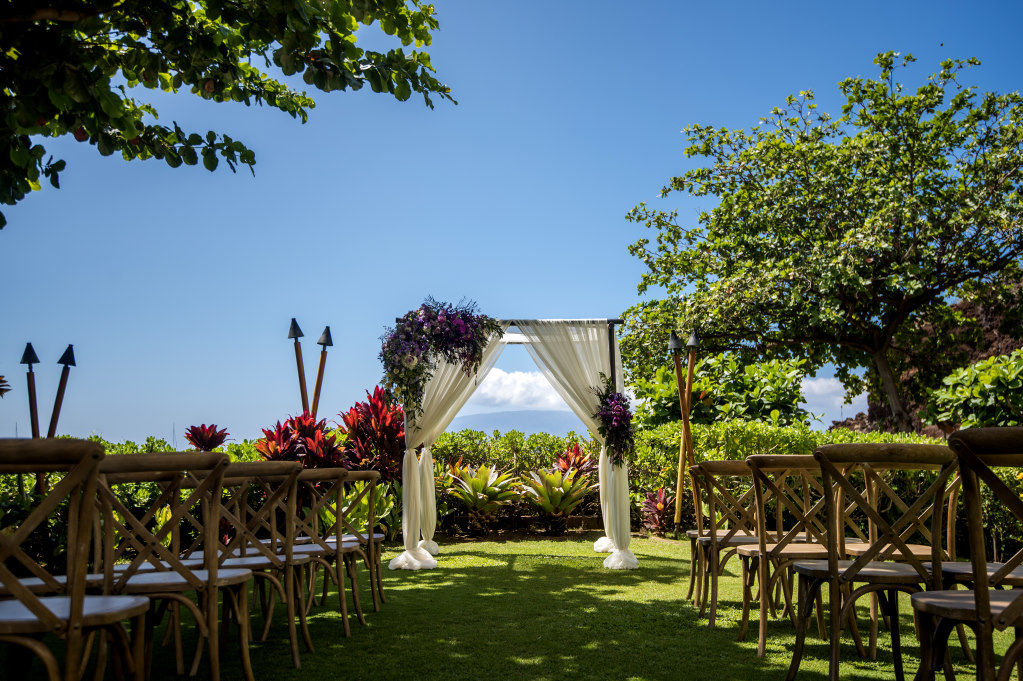 Black Rock Lawn
For couples that want to be close to the ocean without the hassle of a permit, Black Rock Lawn is the ideal location. Hidden in a private corner of our 23-acres of tropical paradise, your wedding photos will astound your friends and family as they marvel over the picturesque backdrop of historic Black Rock, the blue Pacific Ocean and the island of Lana`i.
This versatile space can be used for wedding ceremonies, wedding receptions or simply a romantic Dinner Under the Stars for two. The Black Rock Lawn comfortably fits up to 50 guests.
---
Coral Reef Room
Located on the ground level of Sheraton Maui Resort & Spa, near Black Rock Terrace, the Coral Reef Room is surrounded by clear glass windows for an indoor/outdoor ambiance. The Coral Reef Room offers a fun yet elegant setting for any occasion and is perfect for private dinners, wedding receptions, rehearsal dinners or cocktail parties.
For a festive wedding atmosphere, that includes a dance floor and buffet, this space can accommodate up to 75 guests depending on the room setup.
---
Ali'i Suite & Lawn
High above Ka'anapali Beach sits the crown jewel of Sheraton Maui Resort & Spa, the Ali'i Lawn. The heart-shaped private lawn is perfect for couples seeking a small, intimate wedding in a unique location.
This coveted venue is accompanied by the exquisite Ali'i Suite, featuring stunning views of the Pacific Ocean and our sister islands, Molokai'i & Lanai'i. The suite is offered exclusively in the Ali'i Wedding Package, which includes overnight suite accommodations.
The Ali'i Suite & Lawn are available for wedding ceremonies and cocktail receptions and can accommodate up to 30 guests.
---
Ka'anapali Point
Ka`anapali Point is the newest wedding location at Sheraton Maui Resort & Spa. This secluded lawn is located directly above Black Rock, where couples can exchange their vows with the beautiful sound of the waves washing over the reefs in the background.
Ka`anapali Point is perfect for smaller wedding parties and can accommodate up to 40 guests.
---
Anuenue Lawn
Centrally located, the Anuenue Lawn is a creative, flexible location for wedding ceremonies and receptions of any size. Surround your guests with the beauty of lush gardens and a winding lagoon pool. Then create memories to last a lifetime as you dine and dance the night away.
The Anuenue Lawn can accommodate up to 300 guests.
쉐라톤 마우이 리조트의 웨딩 패키지 & 서비스
*비용은 2017년도 기준이며 세금이나 봉사료는 불포함된 상품가입니다.
Easy Breezy 'I Do' Package
The Easy Breezy 'I Do' package combines pre-selected enhancements and beautiful venue options to help couples experience a stress free planning process.
The Easy Breezy 'I Do' package allows for a maximum of 20 guests and includes:
Ceremony at one of two oceanfront venues: Black Rock Lawn or Kaanapali Point.
Reception at Maui Nui Luau or Black Rock Kitchen's family-style dining location or the 'Ohana Table, (Subject to availability & total guest count)
A bamboo arch
Wedding officiant with conch shell blowing
Shell leis for all guests
Groom's boutonniere & bridal bouquet
Solo musician for the ceremony
One hour of wedding photography
Marriage license coordination
Water station for the ceremony
Personal event manager
The package is priced at $5,500, plus $89 per person for the reception at Maui Nui Luau or 'Ohana Table.
쉐라톤 마우이 리조트에서 웨딩 세리머니나 리셉션을 맞춤패캐지로 이용시 이용 장소별로 비용이 달라집니다.
Wedding Celebrations
CEREMONY PACKAGES INCLUDE:
Personal event manager
Non-denominational iciant
Orchid leis for the couple
Four post bamboo arch
White wedding chairs*
Fruit infused water station
Solo musician for one hour
Wedding rehearsal coordination
RECEPTION PACKAGES INCLUDE:
Personal event manager
White votives for tables
White or black linens
Imperial set, round or rectangular dinner tables with chairs*
High and low cocktail tables
Tables for the wedding cake and guest book
Bar set-up
Ocean Lawn:  Maximum 500 guest/ $7500
Anuenue Lawn:  Maximum 200 guest/ $6000
Moana Lawn and Lounge: Maximum 80 guest/ $5500
Black Ock Lawn: Maximum 60 guest/ $4500
Kaanapali Point: Maximum 40 guest/ $5500
라벨라의 마우이섬 출장 *웨딩 서비스
위에서 명시된 웨딩패키지들은 *웨딩장소 대관과 기본적인 서비스들만을 포함해서 구성해 놓은 상품들이며 웨딩 패키지에 포함되어 있지 않는 경우 별도로 *웨딩음악/  *웨딩아치장식/ *웨딩플라워 / *하객의자 / *하객의자 장식 / *부케 & 부토니아 등을 추가비용으로 신청해야 하는 경우도 있습니다.  그밖에 웨딩포토그래퍼, 한국인 웨딩플레너, 웨딩현장 신부 & 하객 코디네이터, 웨딩드레스/턱시도, 웨딩엑세서리, 신부 헤어메이크업, 리셉션파티 등의 서비스도 예약이 가능합니다.
라벨라에서는 하와이 웨딩과 리셉션이 필요한 토탈서비스를 제공해 드리는 곳으로 가장 합리적인 비용으로 최고의 만족된 결혼식을 완성하는 전문 서비스로 모십니다.
웨딩패키지 예약시,  
한국인 현장 신부/하객 코디네이팅+ *웨딩진행 + *포토그래퍼서비스 2시간 커버리지의  웨딩 플레닝 서비스 A는 $2,000 에 예약 가능합니다.
출장비 3인 주내선 항공비와 렌터카 비용 토탈 $800 추가됨 
포토그래퍼 제외시  웨딩 플레닝 서비스 A $1000 + 2인 출장비  $600
토탈 웨딩 플레닝이 필요한 경우 일반적으로 예약비용의 10% 적용
단, 할러데이, 연휴기간, 연말 크리스마스 & 새해 기간 (12/22~ 1/ 2) 등은 비용이 인상됩니다.