리츠칼튼 카팔루아 리조트  Ritz Carlton Kapalua Resort
심플하면서도 격식이 가득한 리츠칼튼만의 독특한 스타일
리츠칼튼 카팔루아 리조트는 광활한 카팔루아 언덕 위에, 세계적으로 유명한 챔피온십 골프코스와 황금빛 해변으로 둘러싸여 있으며 하와이안 스타일과 모던한 인테리어를 믹스매치한 건물은 마치 유럽의 별장을 연상케합니다. 세계 부호들과 로열 패밀리들이 즐겨 찾는 이곳은 리츠칼튼만의 특별하고 차별화된 서비스와 부대시설, 세련된 객실과 대자연의 아름다움이 어우러져 특별한 추억을 안겨줍니다. 하와이 최상의 호텔로 꼽히는 이 리츠칼튼에서의 웨딩은 그저 시사이드 웨딩이 아닌 한층 업그레이드된 장소와 분위기 속에서 진행되며 특히 웅장한 대자연의 아름다움에 푹 파 묻히는 듯한 가슴 벅찬 감동으로 이어집니다.  넓은 잔디와 팜트리가 가득한 야외 예식장은 바닷가의 향기를 그대로 전해오는 시원한 바람으로 상쾌하고, 이곳에  화사한 꽃길과 부드러운 하와이안 음악을 더해서 로맨틱함을 고조시켜줍니다.  영화 속 한 장면과도 같은 리츠칼튼에서의 고품격 웨딩은 비치하우스론이나 나필리론에서 펼쳐집니다. 웅장한 자연 속에서 펼쳐지는 아름다운 결혼식은 격식 있는 리츠칼튼만의 스타일로 심플하면서도 품격이 가득한 클래식 웨딩으로 꾸며집니다.
DREAM WEDDING AT RITZ CARLTON IN MAUI, HAWAII
Combining the timeless romance of Hawaii and the elegance of a luxury resort, The Ritz-Carlton, Kapalua offers the perfect setting for your destination wedding. Comprehensive wedding services begin with our packages and dedicated planners, who work with couples to ensure every detail is decided. The celebration is underway as soon as your guests arrive in Maui with a day at the spa for the bridal party, a few rounds of golf for the groomsmen or an authentic lu'au to replace the traditional rehearsal dinner. With an array of indoor and outdoor venues, our resort can host your big day as well as all the events surrounding it.
리츠칼튼 카팔루아 마우이 리조트의 웨딩베뉴들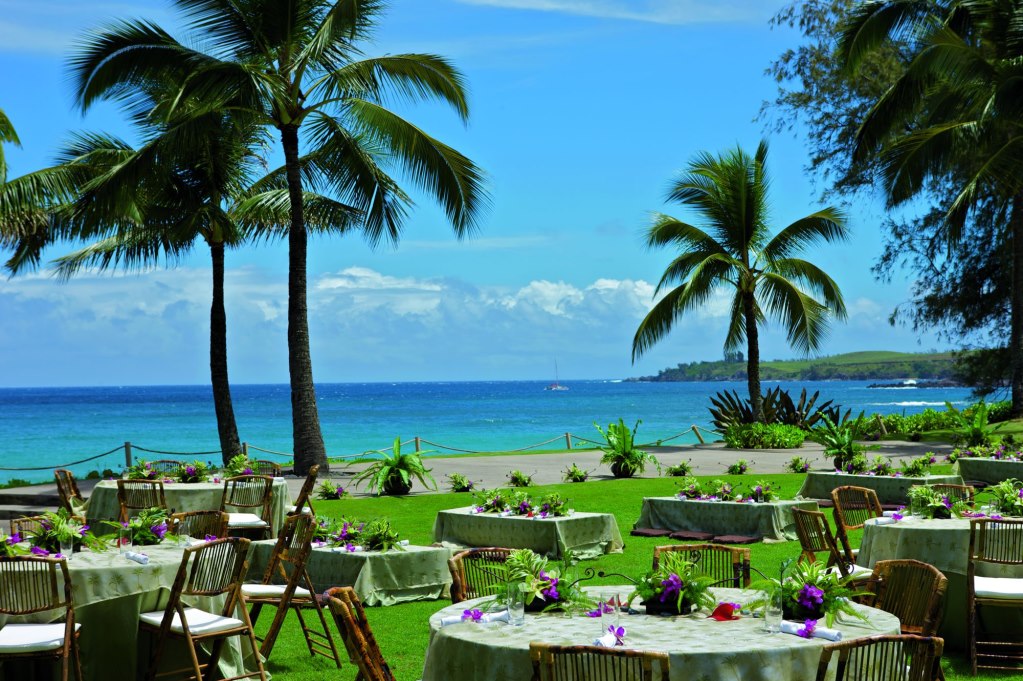 THE BEACH HOUSE LAWN
---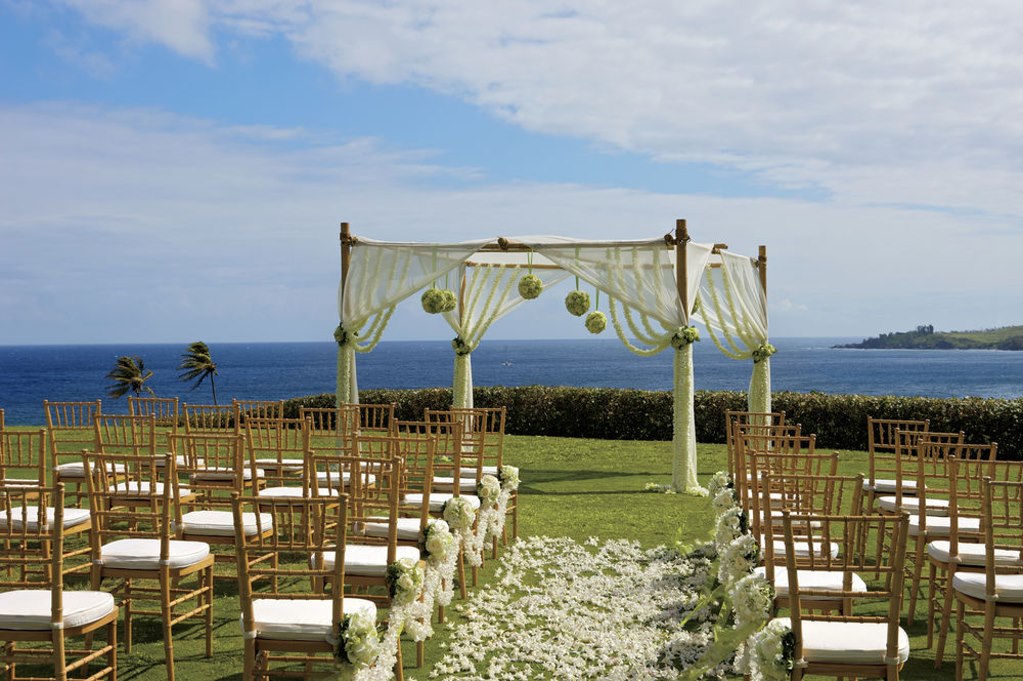 THE NAPILI LAWN
리츠칼튼 카팔루아 리조트의 웨딩 패키지 & 서비스
*비용은 2017년도 기준이며 세금이나 봉사료는 불포함된 상품가입니다.
곧 웨딩상품 안내가 업데이트됩니다.
라벨라의 마우이섬 출장 *웨딩 서비스
위에서 명시된 웨딩패키지들은 *웨딩장소 대관과 기본적인 서비스들만을 포함해서 구성해 놓은 상품들이며 웨딩 패키지에 포함되어 있지 않는 경우 별도로 *웨딩음악/  *웨딩아치장식/ *웨딩플라워 / *하객의자 / *하객의자 장식 / *부케 & 부토니아 등을 추가비용으로 신청해야 하는 경우도 있습니다.  그밖에 웨딩포토그래퍼, 한국인 웨딩플레너, 웨딩현장 신부 & 하객 코디네이터, 웨딩드레스/턱시도, 웨딩엑세서리, 신부 헤어메이크업, 리셉션파티 등의 서비스도 예약이 가능합니다.
라벨라에서는 하와이 웨딩과 리셉션이 필요한 토탈서비스를 제공해 드리는 곳으로 가장 합리적인 비용으로 최고의 만족된 결혼식을 완성하는 전문 서비스로 모십니다.
웨딩패키지 예약시,  
한국인 현장 신부/하객 코디네이팅+ *웨딩진행 + *포토그래퍼서비스 2시간 커버리지의  웨딩 플레닝 서비스 A는 $2,000 에 예약 가능합니다.
출장비 3인 주내선 항공비와 렌터카 비용 토탈 $800 추가됨 
포토그래퍼 제외시  웨딩 플레닝 서비스 A $1000 + 2인 출장비  $600
토탈 웨딩 플레닝이 필요한 경우 일반적으로 예약비용의 10% 적용
단, 할러데이, 연휴기간, 연말 크리스마스 & 새해 기간 (12/22~ 1/ 2) 등은 비용이 인상됩니다.