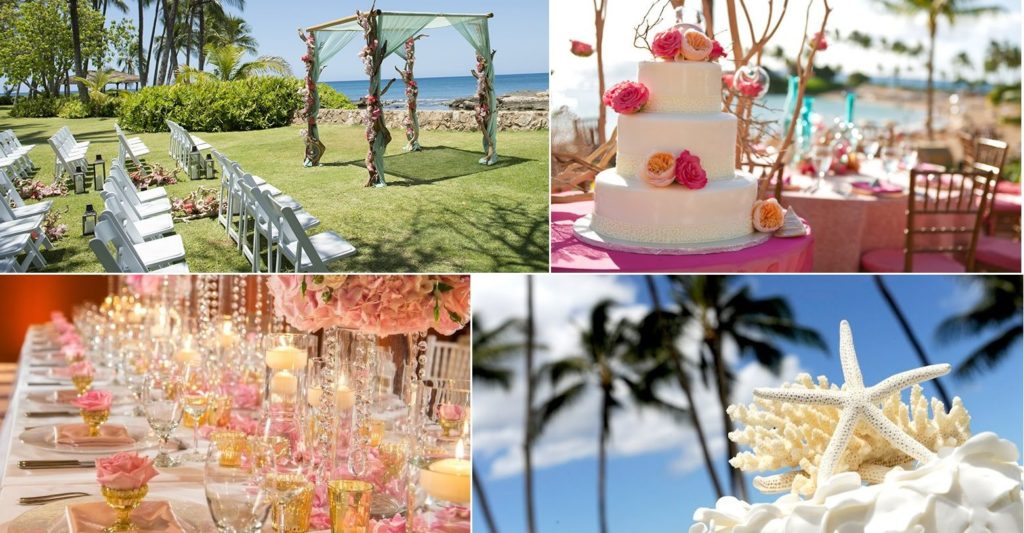 Formal or Informal?
The Hawaiian wedding is all about creativity and flexibility.  There are plenty of formal wedding venues and ballrooms with world-class resorts in Hawaii. So if people say all of Hawaiian weddings are casual, small and simple, then it is not correct.  Formal or Informal Wedding? Choosing the formality is not an important matter in Hawaii weddings. Very formal weddings with traditional styles are also a good match with Hawaiian luxury resorts or traditional chapels. But informal weddings with a few guests or no guests can be more popular in Hawaiian destination wedding in Hawaii.  Whether you want to have a formal ceremony with 40 guests or an informal wedding with only 2 guests, Hawaii is still a perfect place for dream weddings because you can do mix and match.

Hawaiian Culture
When it comes to planning a destination wedding, many couples like to include local culture in their ceremony. Recently, the trend is growing with the infusion of the traditional Hawaiian culture with the modern and sophisticated wedding. Hawaiian weddings are known for unique and special to other weddings due to its characteristics and meaning of it. These are the simple guide to traditional Hawaiian wedding which helps you understand what it looks like.
If you like to know some of the Hawaiian wedding styles, here are the most popular items.


• Hawaiian Wedding Music – Ukulele
In past years, many couples opted for traditional weddings in a Hawaiian chapel or an outdoor beach wedding on the shores of Hawaii islands. Why not mixing traditional with modern? Whether your wedding ceremony will take place indoors or outdoors, having ukulele players during a wedding ceremony are a popular trend. The sweet music of the ukulele invokes the Hawaiian spirit and carries a beautiful, peaceful melody for the bride, groom and perfect for families to enjoy together. Many brides are replacing the traditional wedding march with tunes popularly associated with Hawaii such as – "Somewhere Over the Rainbow".

• Flower/Leaf Hair Pieces for Brides
A beautiful tiara and veil hairstyle is always a classic and elegant look in any locations. While some brides keep their wedding outfits and hairstyles with a traditional beauty, the majority of brides often wear a flower crown, flower wreath, floral hair pin or green leaf hairband, around their head instead of a veil for a more casual feel for Hawaiian destination weddings. Brides tend to choose fresh flower hair pieces for outdoor or beach weddings. Flower hairpieces inspired by the local blooms make the perfect and beautiful touch to every bride, especially for the tropical, vintage or boho style weddings.

• Flower Hair Crown - 'Haku Lei'
Brides wear delicate flower crowns on their head is known as a 'hakulei' during the ceremony,  wedding photo-shoot or the reception.  Haku Leis are flower garlands that are made with traditional Hawaiian tropical flowers, greenery, and braiding strips. Brides worn Haku Leis make a Hawaiian themed natural, elegant and romantic look the brides' beauty can be complimented by the special pieces. Haku Lei flower can be matched with a wedding bouquet.

• Fresh Flower – Leis
The lei is a popular part of Hawaiian traditional culture. It is an important way for one to express their love to another. A lei, or a necklace made from flowers, carries a special message of 'aloha' (love). During a Hawaiian wedding ceremony, leis are often presented as this expression to parents, and the maile lei, or lei for males, is also worn by the groom. In the Hawaiian Islands leis are given as a symbol of love, respect and Aloha spirit.

The traditional Hawaiian flower lei of fragrant pikake for the bride and maile for the groom signify love and respect to each other. Before begin the wedding ceremony, the bride and groom exchange lei by explaining that it represents eternal commitment and devotion to one another. Also, wedding guests wear lei during the ceremony and reception. Made of Orchid and Plumeria leis are the most popular for families and guests. The symbolism of leis make as one of Hawaiian theme weddings.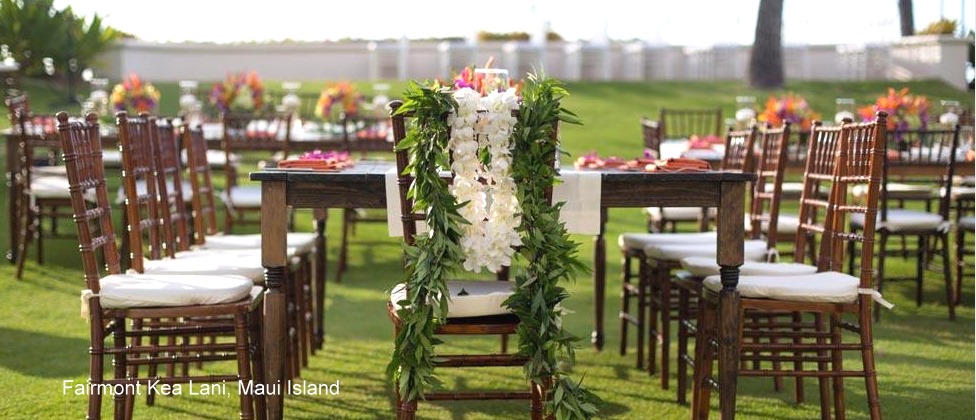 • Conch Shell Blowers
In one type of Hawaiian ceremony, ancient gods are summoned through the blowing of the conch shell. Conch shell blowers are also a powerful addition to your Hawaiian wedding ceremony. In the past, conch shells were used to invoke the Hawaiian gods with their call and their beautiful sound resonates beautifully at your wedding ceremony as well.
• Unity Sand Ceremony
Unity sand ceremony, a symbolic blending of two different-colored bottles of sands into a single vessel is a beautiful and meaningful moment. It is becoming more popular and essential wedding items for Hawaii wedding. Bride and groom can choose each colored sands and from pink, orange, blue, green, purple, yellow or white. The colors can be matched to the wedding theme and flowers. When a couple is mixing two containers of sands into one decorative glass vase, it is a moment of commitment and celebration of joining of two lives. The ceremony takes only 2~3 minutes during a wedding ceremony and the unity sand ceremony kit prices are not too much expensive, pricing range from $10~100.

Weddings in Paradise, Hawaii
Whether it be the ukulele, the fresh flowers leis, or the glistening Hawaiian rings, a wedding in Hawaii will always be a beautiful choice. No matter what the trends, celebrating in these beautiful locations and feeling the nature of Hawaii, your wedding will always be a cut above the rest.