로맨틱비치웨딩 - 이스트 코스트
ROMANTIC BEACH WEDDING- EAST COAST
이스트코스트 비치웨딩
대자연의 장엄함과 로맨틱한 분위기가 동시에 존재하는 이곳,  오아후섬의 동쪽 해안선을 따라 다채로운 풍광을 감상하며 드라이브하면 멋진 경관과 상쾌한 바람에 힐링이 가득 되는 느낌이 들면서 아름다움에 가득 매료됩니다. 잉크를 풀어놓은 것  같은 진한 파란색의 바다는 어느새 오아후섬에서 가장 긴 백사장을 가진 와이마날로 비치를 만나면서 반짝거리는 에메랄드 빛으로 옅어지는 것을 볼 수 있습니다.  이 길고 아름다운 화이트비치를 가진 쇼어라인에 도착하면 청정지역으로 받을 디딘 듯 깨끗하고 상큼함이 느껴져 감동적입니다. 뒤로는 코올라우 산맥의 비경과 해안선에 줄지어있는 열대숲의 시원함,  앞으로는 광대한 바다가 출렁거리며  파란 바닷물을 컵에 담아 놓으면 그대로 블루하와이안 같은 열대 칵테일이 될 것 같은 색감이 묻어나는 듯 합니다.  가보지 않고는 그 감동적인 느낌을 상상할 수 없는 이곳. 대자연이 만들어낸 광대한 모습과 신선한  감동을 그대로 담으려면 전문적인 고화질의 광각 카메라로 담아야 시원하게 아름다운 배경까지 모두 담을 수 있습니다.
오아후섬의 동부 해안선에서  커플만의 감성을 담아 스냅 촬영을 하고 마침내 도착한 이곳, 파란 하늘과 푸른 바다, 흰 백사장으로 인해 청량감이 뚝뚝 떨어지는 쇼어라인에서 비치웨딩스냅을 촬영하거나 스몰웨딩을 올리는 것은 라벨라의 트레이드마크처럼, 처음 시작하고  오랜 시간 공들여서 개발해온 가장 아름다운 웨딩상품 중 하나입니다. 가장 아름다운 사진으로 담아내기 위해서 최고 퀄리티의 인력과 장비를 동원하는 아름다운 이벤트입니다.
모든 비치웨딩 상품에는 로케이션 퍼미션 비용이 포함되어 있습니다.

퍼블릭 비치 장소로, 주말과 연방공휴일에 혼잡할 수 있으니 평일 예약을 추천합니다.

이스트코스트 로맨틱 비치웨딩은 *웨딩스냅 & *리얼웨딩 중 선택 가능합니다.

비치웨딩의 장식은 미니멀하게 준비되며 장식은 선택가능합니다.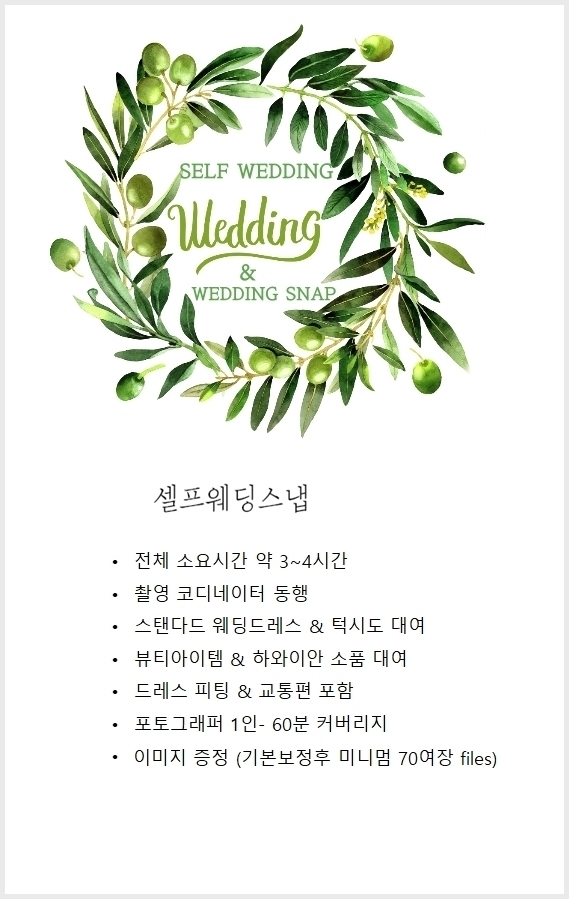 WEDDING SNAP
웨딩스냅은 와이마날로 비치와 트로피컬한 숲이나 용암석이 멋스러운 바다를 포함한 두군데 추가 로케이션 촬영으로 진행되며 광각렌즈를 이용한 전문촬영으로 인해서 타 지역에서 볼 수 없는 로맨틱하고 특별한 웨딩사진들을 남겨 드립니다.  (*비용 $1,100부터~)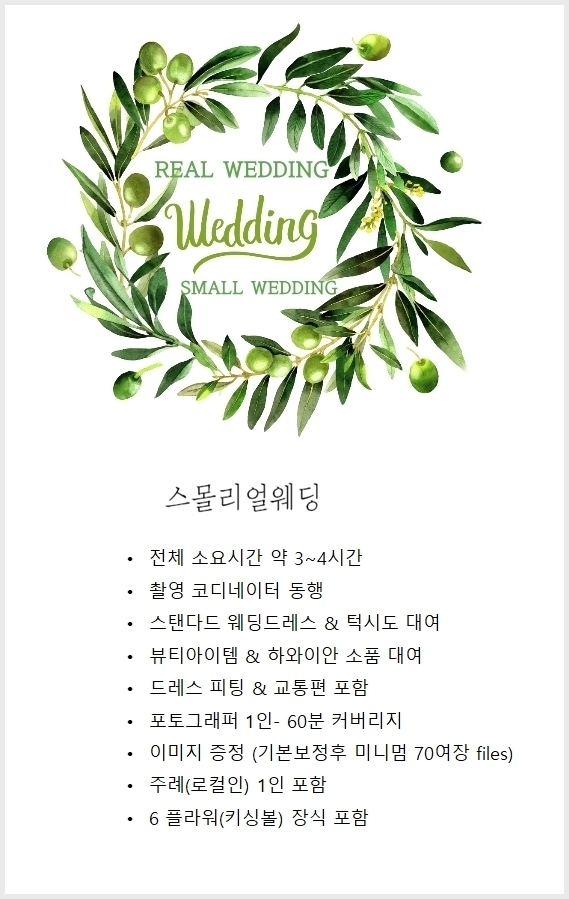 WEDDING CEREMONY
단 둘이서 올리는 결혼식, 주례사와 우클렐레 하와이안 음악으로 아름답게 진행되는 웨딩세리머니, 적은수의 하객을 동반한 스몰웨딩,  결혼기념여행과 리마인드웨딩으로 인기리에 이용되는 웨딩세러머니 패키지입니다. 주말이나 연방 공휴일에는 혼잡하므로 피하는게 좋습니다. *비용 $1,300 부터
추가비용으로 가능한 서비스들
웨딩 데코레이션
헤어/메이크업
포토그래퍼
비디오그래퍼
디럭스 리무진
추가비용으로 업그레이드 가능합니다.
ROMANTIC EAST-COAST BEACH WEDDING
If you've always dreamed of a wedding by turquoise blue water and miles of white sand, this venue will be a perfect place for what you're looking for. The long white sand beach and emerald Pacific ocean make an ideal and unique location for Romantic beach wedding  theme. Romantic East coast beach wedding is held at Waimanalo Beach located on the southeastern corner of Oahu. It is  with an overall length of nearly 5.5 mi (8.9 km), the longest stretch of sandy shoreline on Oʻahu.  Labella offer 'All Inclusive Wedding Package for self-weddings, wedding ceremonies, and vow renewal ceremonies. Romantic East coast beach wedding packages start from $1,300 including wedding dress, tuxedo, all accessories, location fee, transportation fee, minister, 6 flower decorations(Wedding mason jar flower & Hook sets) and photographer etc.   ** Wedding Snap start from $1,100 without minister & 6 flower set **  Contact us for more details.  It takes about 2 more hours than Simply Beach Wedding Ceremonies which is by or in  Waikiki area.