PARADISE COVE CHAPEL
Fairytale wedding inspiration! Plan a Classic and Dramatic Wedding at Ko Olina..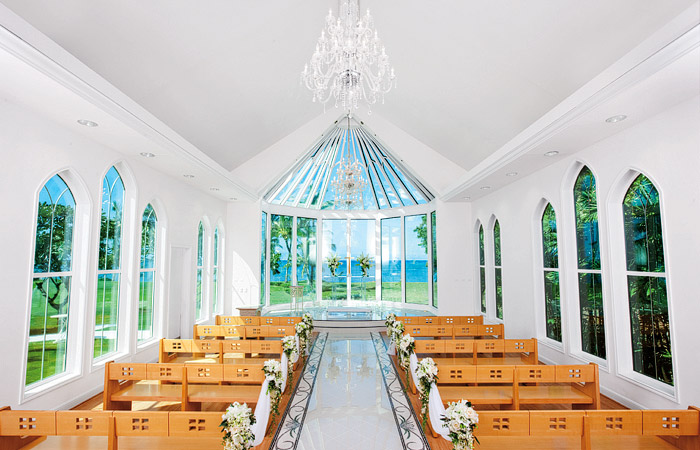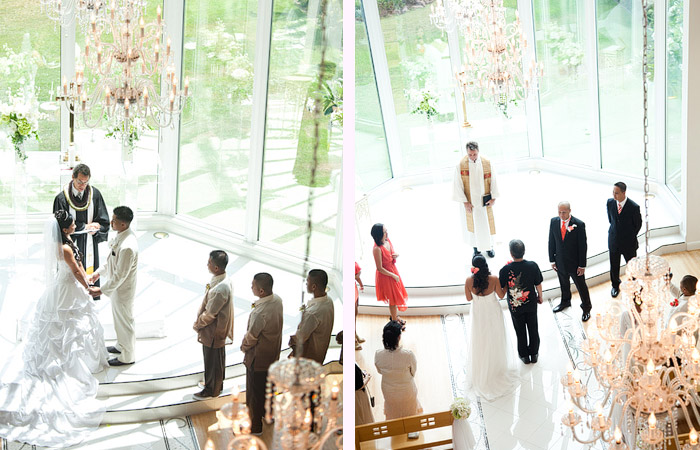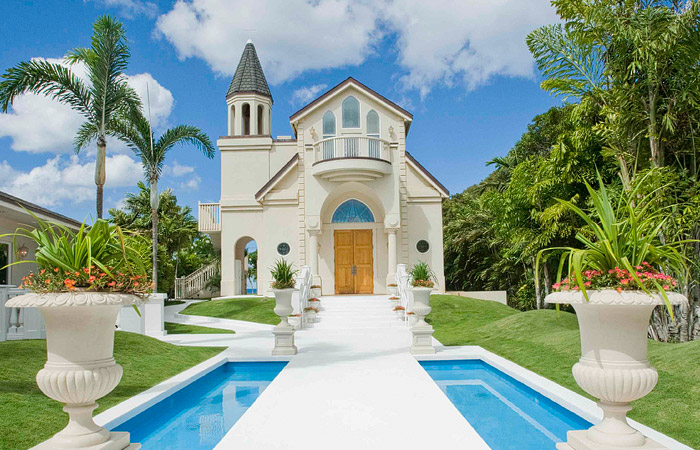 Paradise Cove Crystal Chapel
Out on the west side of Oahu and away from the hustle and bustle of Waikiki sits the Paradise Cove Crystal Chapel. The Paradise Cove Crystal Chapel is perched on Ko 'Olina's stunning oceanfront property and is just seconds away from the water. This chapel was designed for brides that want a fairytale princess experience, with a touch of island class and romance.
Driving up to the chapel cul-de-sac, couples will feel the Verona and European influences in the chapel design. This cul-de-sac is also perfect for a horse drawn carriage or limousine grand entrance. Leading to the chapel, couples are surrounded by the chapels' dual waterfront walkways, as well as lush tropical surroundings. The chapels' Verona personality also features a Juliet balcony and bell tower, making it perfect for an enchanting ceremony engagement. Upon entrance to the chapel, couples will notice its' pristine chandeliers, exquisite wood and Italian marble floors, as well as stunning observatory glass alter. Couples can exchange their wedding vows in our glass alter with a breathtaking unobstructed view of the ocean.
This private wedding estate truly combines island style and tradition with upscale elegance, class and fashion. Unlike any other chapel on Oahu, the Paradise Cove Crystal Chapel is the perfect backdrop for an elegant, enchanting, island ceremony experience.
Location: about 40 min drive from Waikiki
Address: Ko Olina
Venue: Ocean Front
Chapel: up to 40 guest seating
Reception Party: recommend around Ko Olina area
Special features: Luxury, Beautiful, Romantic, Private etc
와이키키에서 드라이브로 약 40분 거리
코올리나 리조트 지역에 위치
채플은 바다 전망이 좋은 오션프론트에 위치
채플공간은 약 40여명까지 착석가능. 추가인원은 스탠딩
리셉션은 코올리나 지역이나 와이키키로 추천
특성: 럭셔리하고 아름다운 곳으로 로맨틱하며 프라이빗한 분위기
오아후 섬의 서편, 코올리나 리조트 지역 내 위치한 오션 프론트 채플입니다. 와이키키에서 드라이브로 약 50분 거리의 코올리나 오아후 섬의 다른 지역과는 전혀 다른 상당히 이국적이면서도 격식 있어 보이는 리조트 문화가 진하게 펼쳐져 있습니다. 거대한 부지 위에 그림처럼 자리한 베케이션 리조트며 콘도들이 하와이의 타 지역 색채와는 전혀 다르게 세련되고 멋진 모습으로 자리해 있습니다.  
이렇듯 고급스러운 리조트 단지에 신부이면 누구나 꿈꾸었을 그 아름다운 로망을 드릴 그림 같은 채플이 있습니다. 바닷가 앞에서 펼쳐지는 웨딩. 그러나 약간은 산만해질 수 있고 웨딩 전통의 클래식 뮤직을 기대하기 어려운 야외나 비치는 아니면서도 그 이상 아름다운 바다를 배경으로 결혼식을 올릴 수 있는 곳, 신랑신부와 주례 뒤로 한없이 넘실거리는 파란 바다는 그 순간 꿈과 같은 착각이 들 정도의 아름다움을 선사합니다. 바다와 채플과 플라워 등이 포함된 하와이 웨딩의 최적 조건 속에서도 채플의 세련미와 품격까지 모두 갖추었습니다.
이렇게 실내가 아름다운 오션 프론트 채플은 하와이 내에서도 손에 꼽을 정도로 몇 개 안 되는데 파라다이스 코브 채플은 그중에 한 곳으로, 가장 하와이다운 천혜 자연과 로망이 만나는 곳. 완벽한 프라이버시를 보장하는 멋진 웨딩로케이션입니다.
엘레강스하고 우아한 결혼식. 격식과 품위를 갖춘 세러머니. 그러나 대자연속에 둘러싸인 아름다운 채플은 로맨틱의 절정을 선사합니다. 
---
♥ 라벨라는 파라다이스 코브 채플의 하와이 총판딜러입니다. 
웨딩 & 리셉션 서비스 Wedding Package
A. Paradise Cove Crystal Chapel
Wedding Location Only 대관료
[Ceremony Location Fee]
$3,050 +  4.72% tax
Space/Property Reservation for 90 min
On-site Ceremony Coordinator
Keepsake marriage certificate
Add (B) Option:  $1300 ++ (tax & SVC charge) for
Minister
Musician(Organist)
Signer
Bouquet & Boutonniere
R/T Trans Limo Ride for B&G
On-site Ceremony Coordinator
C. Deluxe Wedding Package
Full Wedding Package
Package Price from $7,250 ++(service charge & Hawaii tax)
[All of A & B Package PLUS ]
Hair & Makeup
Unity Sand Ceremony
Photographer 90 Min Coverage
Photo Min 150 images
Wedding Dress Rental for Bride(std 1)
Tuxedo Rental for Groom (std 1)
Wedding Accessories rental
Bride Assistant Coordinator
*Wedding dress standard style.
D. Wedding & Reception Party Package
Wedding & Reception
[Reception Services]
Aulani Disney Resort
Four Seasons Resort
Waikiki Hotels
Restaurant Private room etc
After party & Wedding reception is available with Any styles and locations.