아일랜드 비치웨딩
ISLAND BEACH WEDDING - PUBLIC BEACH PARK
비치웨딩
올 인크루시브, 아일랜드 비치웨딩은 둘만의 웨딩, 리마인드 패밀리웨딩, 또는 웨딩스냅 촬영 등 어느 사이즈의 웨딩이나 이벤트에 인기 있습니다. 웨딩베뉴는 하와이안 팜트리가 아름다운 오션프론트 퍼블릭 비치파크들입니다. 퍼블릭 비치파크들은 일반인들이 왕래를 하는 비치공원이라서 프라이빗하지는 않지만 프라이빗 비치베뉴나 리조트 비치웨딩에 비해서 비용이 적게 들어 웨딩스냅이나 스몰웨딩을 원하는 커플들에게 대중적으로 많이 이용되고 있습니다. 퍼블릭비치파크지만 이곳에서 웨딩스냅촬영이나 비치웨딩 세리머니를 하려면 반드시 하와이 주정부에서 발행하는 합법적인 장소이용과 촬영에 대한 퍼미션이 필요합니다.  *** 라벨라에서는 로케이션 이용 퍼미션과 촬영퍼미션을 포함하고 웨딩드레스, 포토그래퍼, 결혼식에 필요한 플라워나 데코레이션 일체, 결혼식에 필요한 모든 제반여건을  완벽하게 준비해 드리는 원스탑 웨딩서비스를 제공해 드립니다.
모든 비치웨딩 상품에는 로케이션 퍼미션 비용이 포함되어 있습니다.

비치웨딩은 스냅상품이나 풀웨딩세리머니 중 선택 가능합니다.

상품에 포함된 웨딩드레스는 트레인이 없는 비치전용 심플드레스입니다.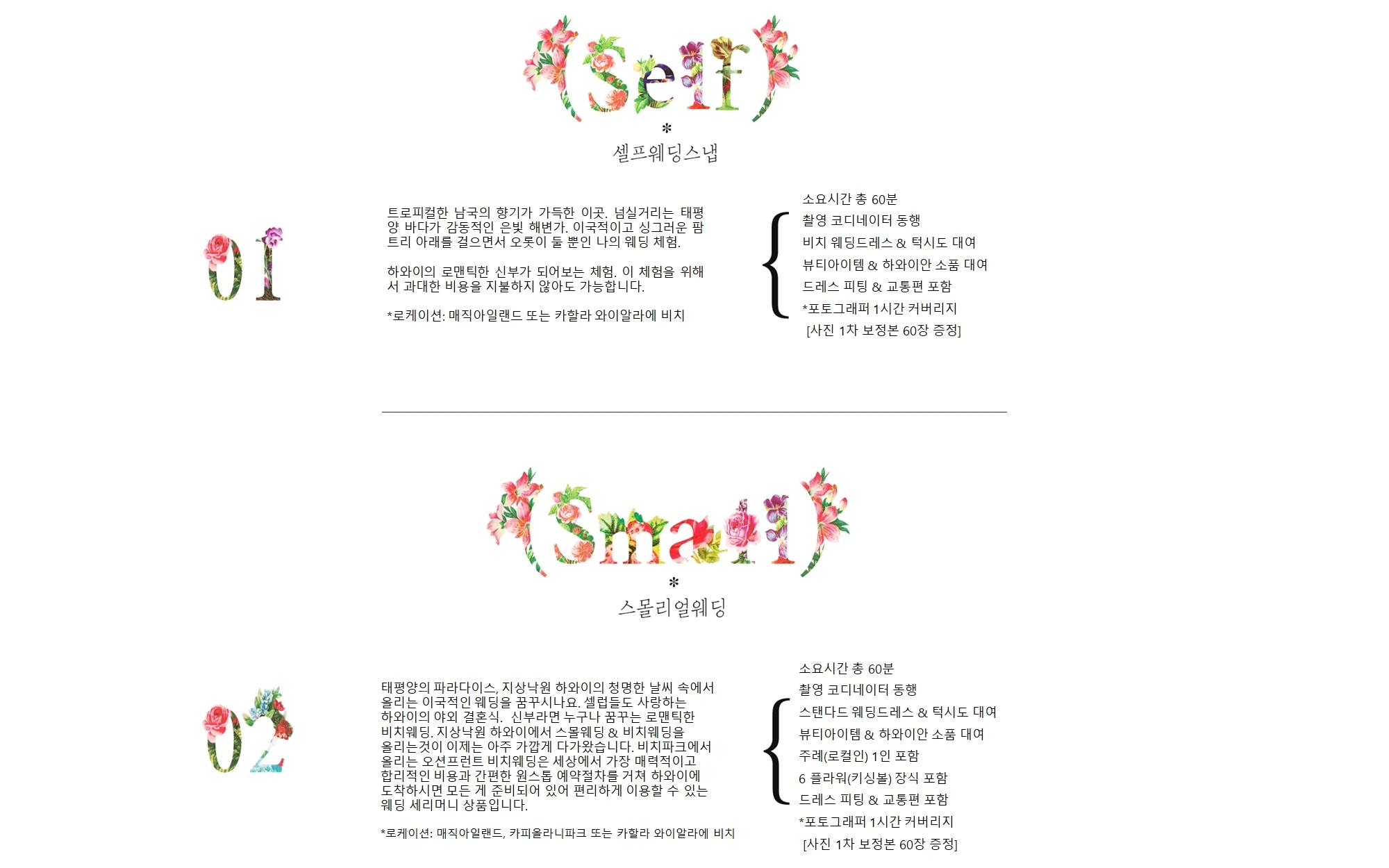 ISLAND BEACH WEDDING AT PUBLIC BEACH PARK
Dreaming of a ceremony at the beach? All inclusive Island Beach Wedding at romantic beachfront are held at Public Beach Park in Oahu Island. Island Beach Wedding is most popular for ' 'I Do Wedding' and 'Vow Renewal'.  Simply romantic beach wedding packages start from $700 for self-wedding snap and $900 for wedding ceremony including wedding dress, tuxedo, all accessories, location fee and photographer etc. Contact us for more details.  *Location: Magic Island, Queen Kapiolani Beachpark, or Kahala Waialae Beachpark.