HANALANI BEACH CHAPEL
The Special Oceanfront Venue makes very special wedding day experience~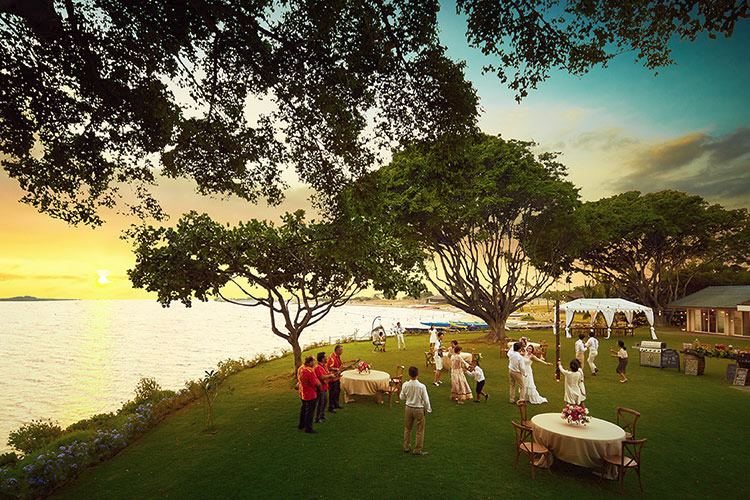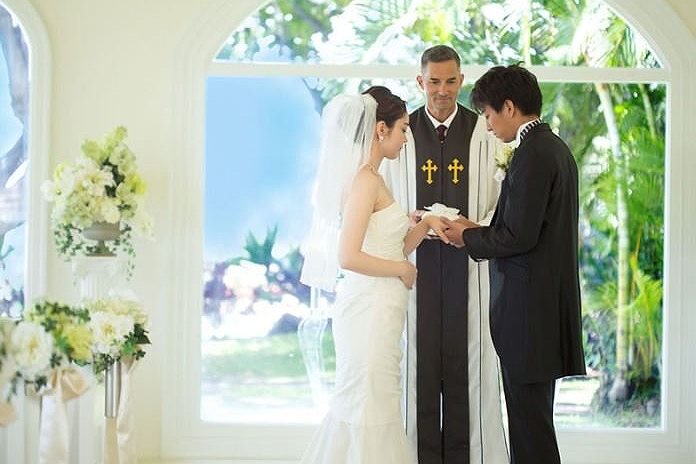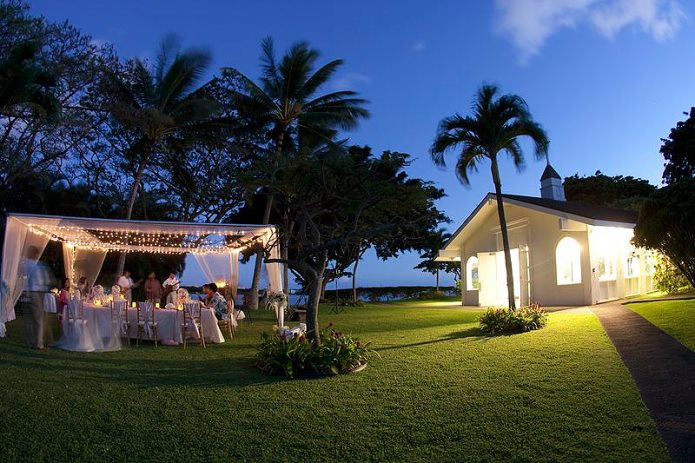 Hanalani Chapel & Garden Wedding
Hanalani Chapel located about 15 minutes away from Waikiki will create a very special wedding day experience and takes place in the exclusive and private garden and seaside chapel. This location offers two special ceremony places.
The Chapel

is nestled among tropical gardens next to pacific ocean and  offers the casual elegance  of a beach hut interior with a breathtaking ocean view. The tropical landscapes of the Hanalani Chapel create a true oasis of beauty. The Victorian-style chapel is elegant. Travertine and onyx stone flooring with whimsical chandeliers add to the beauty of the venue.
The garden venue

gives you an endless supply of ideas and a relaxed atmosphere.   This special and unique  setting gives couples to either get married in a white chapel or amongst the lush garden. A garden party will be a perfect time to get fancy with your décor like elegant tablecloths, place cards, decorative centerpieces and  wood decorations.
Create the wedding of your dreams with these special location and a relaxed, gorgeous atmosphere.
Special Features: Possible both of Chapel & Garden Wedding
Overlooking Pacific Ocean
Location: Ocean Front
From Waikiki: Takes about 20 min drive
Reception Party: Available with Wedding Package
웨딩장소: 채플 또는 비치사이드 가든 중 선택
바다 전망이 가능한 시사이드
오션프론트 웨딩
와이키키에서 드라이브로 약 20분 거리
리셉션: 프라이빗 가든 파티 예약 가능
따사롭고 밝은 햇살 아래, 로맨틱한 오션프론트 시사이드 가든 위에서  영화 같은 프라이빗한 야외 가든웨딩을 하고 싶습니다.  그리고 매거진에서 보던  자그마하면서도 이국적인 분위기의 온통 하얀색으로 성스러운 장식된 그런 멋진 곳에서, 채플웨딩도 하고 싶습니다.   그 후에는, 친근하고 사랑하는 가족과 하객들에 둘러 싸여  가든에서 샴페인 축제와 웨딩 케이크를 들면서 석양의 멋진 바다를 바라보면서 촛불과 조명으로 로맨틱한 불을 밝히고  플라워로 가득한 카바나와 빈티지한 테이블 세팅 옆에서 와인을 곁들인 가든 바비큐 파티를 시작합니다. 
 모든이들이 꿈꾸는 프라이빗하고 완벽한 스몰웨딩.
합리적인 비용으로 다양한 테마를 준비하는 완벽한 결혼식 장소입니다.
---
♥ 라벨라는 하날라이 채플 & 가든의 하와이 총판딜러입니다.
웨딩 & 리셉션 서비스 Wedding Package
A. Hanalani Chapel/Garden Venue
Wedding Location Only 대관료
[Ceremony Location Fee]
$2,150 +  4.72% tax
Space/Property Reservation for 90 min
On-site Ceremony Coordinator
Keepsake marriage certificate
B. Basic Wedding Package
Chapel Ceremony/Flower/Makeup/Limo
Package Price from $3,650 ++(service charge & Hawaii tax)
[A. Location Service PLUS]
Non-denominational Officiant
One Musician(Ukulele or Organist)
Wedding Planner/On Site Coordinator
Bouquet & Boutonniere
Hair/Make Up Service
Limousine Transfer svc for a couple
C. Deluxe Wedding Package
Chapel & Garden Ceremony
Package Price from $4,950 ++(service charge & Hawaii tax)
[B. Basic Package PLUS ]
[ Garden Wedding Setting]
Wedding Arch & White Linen
6 aisle flower baskets Decoration(af)
Guest Chairs (up to 20)
[Vintage Table]
2 of Vintage Barrel/table
D. Wedding & Reception Party Package
Wedding & Reception
Package Price from $8,950 ++(service charge & Hawaii tax)
[All of A, B, & C Package PLUS ]
[Reception Services]
White Cabana Tables
Fruit Punch & Hors d'oeuvre
Basic style Flower centerpiece(from Ceremony)
Lunch or Dinner (BBQ or 4 course) *Min. from 20 guests
2 tier- Wedding Cake
Sparkling Wine
Soft drink and cookie
Additional Services
Need special setting?
[Additional Services with charges]
Photographer
Videographer
Wedding Dress
Tuxedo
Lighting
Tent
Band
Hula dances