ANGEL BEACH GARDEN
Angel Garden oceanfront estate is an elegant private home for romantic weddings~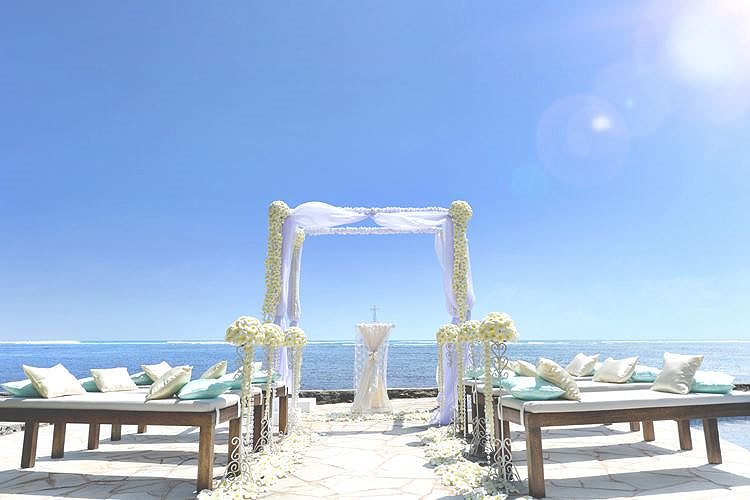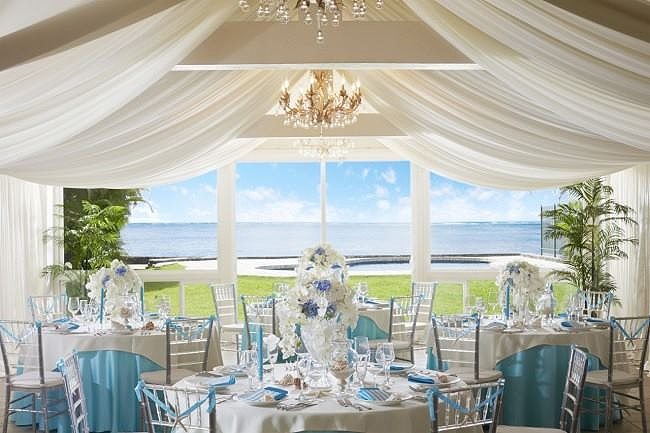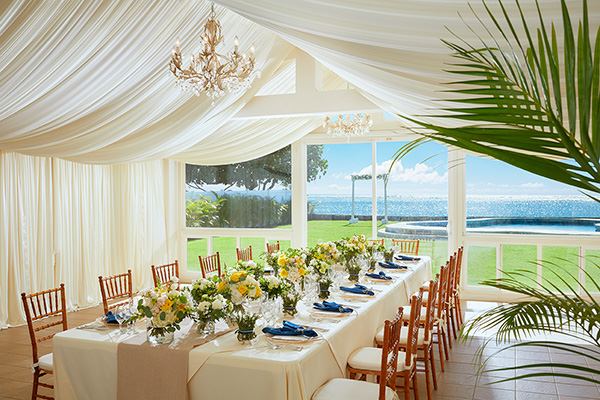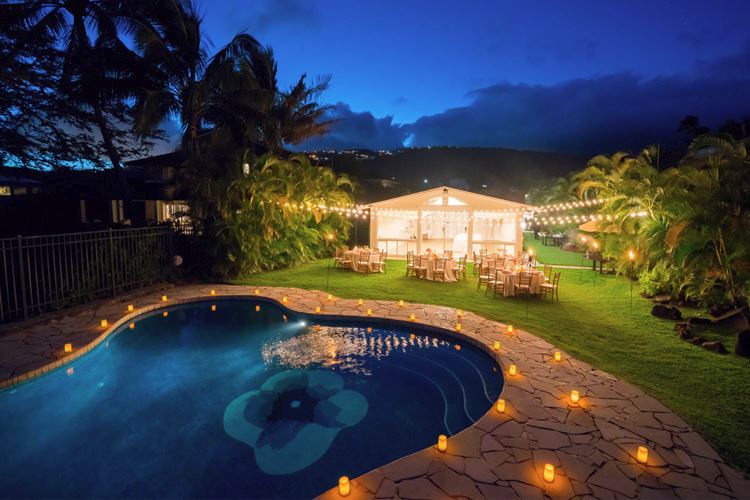 Angel Beach Garden Wedding
If you have a wedding party of 10~40 people and looking for a private wedding venue, this will be an ideal place for celebrations.  Located at ocean front on the Eastern side of Oahu, Angel Beach Garden Private House provides couples with a chance to create their dream wedding day. This elegant private home is a dynamic indoor/outdoor space with a modern take on island décor.  The versatile estate can be customized and arranged to meet your needs.
The outdoor space features a sweeping ocean view with grassy garden and stone patio area. The indoor space has several gathering places for your guests to explore and enjoy. This fabulous property host private parties or ceremonies for up to 40 people.  The venue use is starting from $2,200 and a wide range of services are available at an additional cost including flowers, decoration, minister, music, catering, reception party and wedding planning service.
This large and comfortable venue is right on the ocean and so is ideal for a beach/garden party style reception. Are you dreaming of elegane and private house wedding? Here we can make your dream come true with a full service of wedding ceremony, decor, florist,  and party style reception.
Special Features:Choice of Chapel or Beach Wedding
Overlooking Pacific Ocean
Location: Ocean Front
From Waikiki: Takes about 20 min drive
Reception Party: Available with Wedding Package
Wedding Size: 2~40 for small wedding
웨딩장소: 채플 또는 비치웨딩 중 선택
바다 전망이 가능한 시사이드
오션프론트 웨딩
와이키키에서 드라이브로 약 20분 거리
리셉션: 프라이빗 가든 파티 예약 가능
웨딩사이즈: 2~40명 사이의 스몰웨딩에 적합
트렌드를 앞서가는 이들이 찾는 프라이빗 하우스 웨딩. 파란 바다가 눈앞에 펼쳐진 별장의 가든에서 좋은 사람들만 초대해서 꾸미는 하우스 웨딩. 마치 영화 속 한 장면으로 들어가 있는 것 같은 모습 그대로이며 여성이라면 누구나 꿈꾸던 웨딩입니다. 
격식과 전통적인 혼례 방식에서 벗어나 이색적이고 개성 있는 웨딩 스타일을 추구하는 세대들이 둘만의 특별한 이벤트를 꿈꾸며 준비하는 웨딩 세러머니. 결혼식은 바다가 보이는 이국적인 채플이나 바닷가 바로 옆 시사이드 야외 웨딩 중 선택이 가능합니다. 특히 이곳은 결혼식에 이어서 가든에서 애프터 파티 리셉션도 즐길 수 있어 결혼식 후에 장소를 이동하지 않아도 되며 호텔처럼 틀에 박힌 격식을 차리지 않으면서도 신부를 위한 대기실과 폐백을 올릴 수 있는 별도의 공간, 하객들이 쉴 수 있는 넉넉한 백스페이스도 준비되어 있어 웨딩과 리셉션 장소로 아주 편리합니다.
그림처럼 화려하게 물들어가는 석양을 바라보며 로맨틱하고 아늑한 공간에서 가까운 이들과 파티타임을 가지면서 휴양지에서 느낄 수 있는 특유의 여유로움을 만끽합니다.
 영화 속의 결혼식. 그 안으로 들어가면 바로 이런 장면들이..
휴양지에서의 여유로움이 묻어나는 로맨틱한 웨딩과 리셉션!
---
♥ 라벨라는 엔젤비치가든의 하와이 총판딜러입니다. 라벨라에서 결혼식 장소만 대관이 가능합니다. 
웨딩 & 리셉션 서비스 Wedding Package
A. Angel Beach Garden
Wedding Location Only 대관료
[Ceremony Location Fee]
$2,350 +  4.72% tax
Space/Property Reservation for 90 min
On-site Ceremony Coordinator
Keepsake marriage certificate
Wedding Arch
Flower Decor(artificial) for Arch
Guest Chairs up to 20
B. Basic Wedding Package
Beach Wedding Ceremony/Minister/Music/Flower/Chair decor/Hair&Make up
Package Price from $4,650 ++(service charge & Hawaii tax)
Non-denominational Officiant
One Musician(Ukulele or Organist)
Keepsake marriage certificate
Wedding Arch
Flower Decor(artificial) for Arch
Guest Chairs up to 20
Chair Sash Decoration
Wedding Planner/On Site Coordinator
Bouquet & Boutonniere
Hair/Make Up Service
Transfer from&to Labella-Venue for couple
C. Deluxe Wedding Package
Full Wedding Package
Package Price from $6,650 ++(service charge & Hawaii tax)
[All of A & B Package PLUS ]
Flower Shower- Fresh Flower
Fresh Flower Petal
6 Aisle Flower Decor
Photographer 90 Min Coverage
Photo Min 150 images
Wedding Dress Rental for Bride(std 1)
Tuxedo Rental for Groom (std 1)
Wedding Accessories rental
Guest R/T PU service from Waikiki- Venue up to 10
D. Wedding & Reception Party Package
Wedding & Reception
[All of A, B, & C Package PLUS ]
[Reception Services]
Location for 3 hours
Dining Tables & Chairs
White Linen & Glassware
Soft Drinks
Wine & Beers
Buffet Lunch or Dinner
Hors d'oeuvre & Dessert
Basic style Flower centerpiece(from Ceremony)
Additional Services
Need special setting?
[Additional Services with charges]
Photographer
Videographer
Wedding Dress
Tuxedo
Lighting
Tent
Band
Hula dances
Luau Mini Show
Pool Side Candles
Pool Floating Flower Decor