알로하 비치웨딩 밸류팩
ALOHA BEACH WEDDING - PUBLIC BEACH PARKS
비치웨딩
Dreaming of a ceremony at the beach? Aloha Beach Wedding - Basic Package and All Inclusive Value Package  - at romantic beachfront are held at Public Beach Park in Oahu Island. Island Beach Wedding is most popular for ' 'I Do Wedding' and 'Vow Renewal'.  Simply romantic beach wedding packages start from $399 and all-inclusive packages start from $700 for self-wedding snap and $900 for wedding ceremony including wedding dress, tuxedo, all accessories, location fee and photographer etc. Contact us for more details.  *Location: Magic Island, Queen Kapiolani Beachpark, or Kahala Waialae Beach Park.
알로하 비치웨딩은 둘만의 웨딩, 리마인드 패밀리웨딩, 또는 웨딩스냅 촬영 등 어느 사이즈의 웨딩이나 이벤트에 인기 있습니다. 웨딩베뉴는 하와이안 팜트리가 아름다운 오션프론트 퍼블릭 비치파크들입니다. 퍼블릭 비치파크들은 일반인들이 왕래를 하는 비치공원이라서 프라이빗하지는 않지만 프라이빗 비치베뉴나 리조트 비치웨딩에 비해서 비용이 적게 들어 웨딩스냅이나 스몰웨딩을 원하는 커플들에게 대중적으로 많이 이용되고 있습니다. 퍼블릭비치파크지만 이곳에서 웨딩스냅촬영이나 비치웨딩 세리머니를 하려면 반드시 하와이 주정부에서 발행하는 합법적인 장소이용과 촬영에 대한 퍼미션이 필요합니다.  *** 라벨라에서는 로케이션 이용 퍼미션과 촬영퍼미션을 포함하고 웨딩드레스, 포토그래퍼, 결혼식에 필요한 플라워나 데코레이션 일체, 결혼식에 필요한 모든 제반여건을  완벽하게 준비해 드리는 원스탑 웨딩서비스를 제공해 드립니다.   *모든 비치웨딩 상품에는 로케이션 퍼미션 비용이 포함되어 있습니다.   *비치웨딩은 스냅상품이나 풀웨딩세리머니 중 선택 가능합니다.
Aloha Beach Wedding
++CEREMONY VALUE PACKAGE ++
Venue: Magic Island or Kahala -Waialae Beach * Oceanfront
Duration: approx. 2.5 ~ 3.5 hour(s) *including dress fitting time
Available: Weekdays (M ~ F)  -  10am/11am/12 pm/1pm /2pm/3pm
Pick Up: available from hotels in Waikiki area only
Price: $900
Inclusion
Non-denominational minister (1)
Circle of Love artificial floral decoration(standard style)
Bouquet & Lei (limited selection of artificial flower)
Location Permit
Wedding Coordinator
Souvenir Wedding Certificate
Pick up service - hotel & wedding location (only available in Waikiki hotels)

Professional Photographer for 1-hour coverage & 80 original images 

Beach Wedding Dress(1 )*simple/no train & Tuxedo(1) Rental 

Beauty items(tiara, flower crown-Hakulei, shoes, veils, etc.) Rental
*키싱볼, 6 메이슨자 훅, 서클러브 플라워중 선택가능합니다.
choice of selection of (6)kissing balls, (6) Mason Jar Flowers, Circle of love flower
Aloha Beach Wedding Snap
SELF WEDDING SNAP(Photo only)
Venue: Magic Island or Kahala -Waialae Beach * Oceanfront
Duration: approx. 2.5 ~ 3.5 hour(s) *including dress fitting time
Available: Weekdays (M ~ F)  -  10am/11am/12 pm/1pm /2pm/3pm
Pick Up: available from hotels in Waikiki area only
Price: $700
Inclusion
Bouquet & Lei (limited selection of artificial flower)
Location Permit
Wedding Coordinator
Pick up service - hotel & wedding location (only available in Waikiki hotels)

Professional Photographer for 1-hour coverage & 60 original images 

Beach Wedding Dress(1 )*simple/no train & Tuxedo(1) Rental 

Beauty items(tiara, flower crown-Hakulei, shoes, veils, etc.) Rental
 Add-on Services Available 
Upgrade standard circle to deluxe floral Circle  $150

Side hooks with artificial mason jar flowers or kissing balls (6) $150

Wedding Music - Hawaiian Ukulele Player (1) $250

Beach Wedding Dress & Aloha Shirt including (shoes/veil, tiara, or hairpiece) Set A Rental start from $400~

Formal Wedding Gown & Tuxedo including (shoes/veil, tiara, or hairpiece) Set B Rental start from $800~

Fresh Flower Bouquet & matching Boutonniere(white, pink or red roses) start from $250

4 White Resin Chairs for guests start from $120 (limited around Waikiki area)

8 Chivalry chairs for guests $300  (limited around Waikiki area)

Additional Photography Original 50 images $400~

Hair & Make up For Bride start from $350~

R/T Limousine transfer *Waikiki - Wedding Location(Kahala or Magic Island) start from $260~

Wedding Arch & White Linen Decoration & (2) Artificial Arch Piece  Flower $600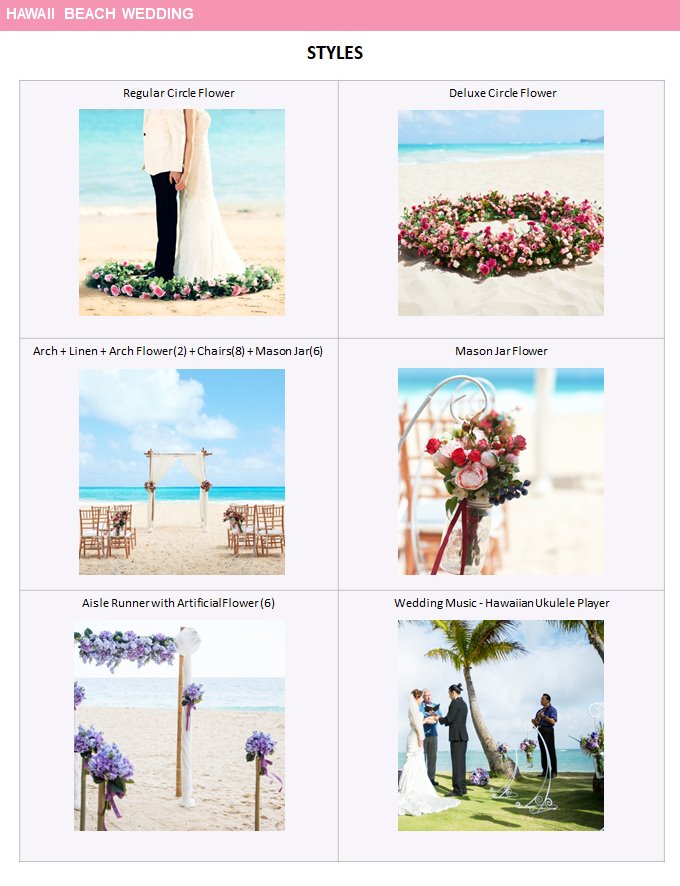 카할라 와이알라에 비치웨딩 - 샘플 갤러리 1     Kahala - Waialae Beach 
카할라 와이알라에 비치웨딩 - 샘플 갤러리 2     Kahala - Waialae Beach 
 *부산 MBC 방송 '만국유람기 프로그램 방송된 웨딩*  
카할라 와이알라에 비치웨딩 - 샘플 갤러리 3     Kahala - Waialae Beach 
카할라 와이알라에 비치웨딩 - 샘플 갤러리 4     Kahala - Waialae Beach 
매직 아일랜드(알라모아나) 비치웨딩 - 샘플 갤러리 1     Magic Island